Yoga
✓ Helps relieve stress

✓ Helps improve concentration, focus & attention

✓ Encourages young people to reach their full potential

✓ Helps to boost self esteem and confidence

✓ Helps young people embrace life with confidence and a strong sense of self


At Generation Mind Body & Soul we are qualified Star Child Yoga instructors, trained to teach young people of all ages.
Music
"Music stimulates areas of a child's brain that other mental and physical activity will not, and it will make a lasting impression"
- Metzger

"Researchers also have found a significant relationship between music instruction and positive performances in such areas as: reading comprehension, spelling, mathematics, listening skills, primary mental abilities and motor skills"
- Borgese

"Music has the ability to communicate in a way that goes far beyond our imagination. It can transfer a musical language containing all kinds of emotional and educational messages, which can be understood unconsciously by all babies worldwide, regardless of race or ethnic background. By presenting your baby the right mix of styles, melody, harmony and rhythm, the brain is stimulated into creating more connections, providing your baby a head start in life in various ways"
- Raimond Lap

Mindfulness
✓ Can improve the mental, emotional, social and physical health, and the well being of young people

✓ Helps students to find the focus needed to achieve their academic goals

✓ Helps students cope with academic stress and the pressures of life outside the school gates


Mindfulness involves sitting and following breath but at Generation Mind Body & Soul we have adapted it to involve listening to music, eating, and walking. Our aim is to find something that works for the students.
Nutrition
✕ Fad dieting

✕ Body stereotypes

✓ Healthy attitude towards food

✓ Positive body image regardless of shape, size, or media pressure

✓ Making healthy food fun and enjoyable


Emily, the founder of Generation Mind Body & Soul suffered from serous health issues due to diet and allergies and has totally transformed her health through nutrition and healthy eating.
Exercise
✓ Good for your mind, body, and soul

✓ Releases endorphins that are known to make us feel happier and more relaxed

✓ Helps you to sleep better

✓ Delivers oxygen and nutrients to your whole body helping it to work more efficiently

✓ Improves your mood and gives you an improved sense of well being

✓ Improves brain function


"Life is like riding a bicycle. To keep your balance you must keep moving"
- Albert Einstein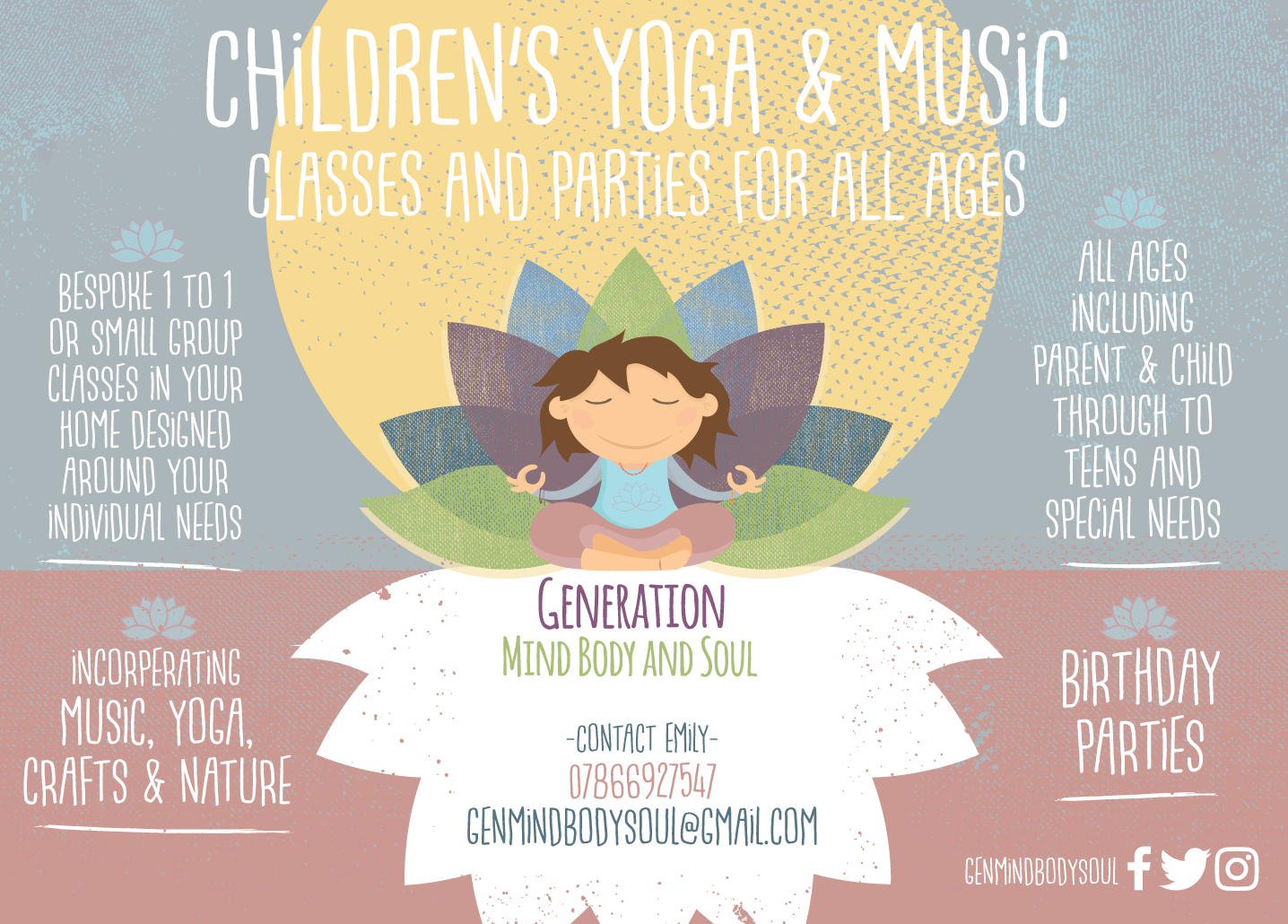 Our Story
My name is Emily McGregor, founder and creator of Generation Mind Body and Soul - a program targeted at children and teenagers, incorporating yoga, music mindfulness, meditation, nutrition, and self belief.

I've worked with children and teens for many years now. I'm a yoga teacher and have a degree in music specialising in the effects music can have on developing children.

My aim is to help guide this potential-rich generation to be the happiest, healthiest, and most successful people they can be, and to provide them with the skills to achieve that potential; skills they'll employ for the rest of their lives.

There has never been a more challenging, stressful or difficult time to be a young person and Generation Mind Body & Soul can help young people find strategies and coping techniques to deal with difficult situations in the best possible way.

Services
• Yoga and music classes for children of all ages from mums & toddler to teens
• Yoga and music classes for teenagers
• Yoga and music parties for all ages
• Yoga and music events
• After school yoga & mindfulness clubs
• Lunch time yoga & meditation space
• PE yoga sessions
• Yoga/mindfulness as an alternative to detention
• One-to-one or small group yoga for children/teens with special challenges
• Yoga & mindfulness workshops throughout stressful exam periods
• Yoga workshops for school teachers and staff